CL0001 Latex Love Doll Suit
The suit on the main photo has options:
an attached mask MLV001, with painted realistic eyes and cushion ring with a sheath in the mouth;
inflatable breasts with painted nipples;
red cushion ring in the crotch;
integrated corset;
stockings ZA0102bi with contrast back seam and feet;
and gloves YS0000bi.
The starting price is given for a body CL0002 with rear zipper without any addition detailes as head, stockings or gloves.
To design and order a desirable suit, you have to understand the options. There are a lot of options for this suit, please see below:
Attached mask of several types: ML0091, MLM001, MLV001 или MLK001. The color of the mask can slightly differ from the main color of the body, due to some technological peculiarities. The size of the mask can be increased;
The mouth of the mask can be painted as in realistic masks, or anime glued mouth, or we can install a red condom with/without cushion ring;
We can make an installed corset: the thickness of latex in the waist area is increased to 2 mm, and we put 2 straps with lacing in the back of the suit, that allows to tighten the waist for 3-5 cm and make the figure visually more slim;
Breast can be made with attached realistic nipples, or with cushion rings on nipples, or we can make it inflatable;
Crotch can be made with red cushion ring 50 mm in diameter, or red cushion ring with condom 50 mm in diameter, or condom 40-45 mm in diameter, or we can make an open crotch (an oval 25 cm length cut with red trim), or realistic vagina, or realistic vagina with condom (please see the pictures below);
We can attached glued stockings ZA0102 with various trims. Or we can put moulded seamless black or flesh-colored stockings ZL0000 of high quality;
We can attach gloves YS0000 with various trims. We recommend to choose the same trims as for stockings.
Sample configurations of the costume (click on small pictures)
| | |
| --- | --- |
| | |
| CL0001 with anime eyes and mouth, painted nipples, trimmed cut in the crotch, with stockings ZA0000 and gloves YS0003 | CL0001 with anime eyes and mouth, painted nipples, trimmed cut in the crotch, without stockings and gloves |
| | |
| Back zippered body CL0002 | Maskless CL0001 with stockings ZA0000 |
Description
Anatomic real doll suit with invisible short rear zipper 30-40 cm. Based on an anatomically moulded body CL0002.
CL0001 and similar suits (CL0003, CL0004) are made by a special combined technology: the body is moulded on special female torso, gloves are moulded, stockings are moulded or glued of 4D Rubber latex. Stockings, gloves and mask are glued to the body.
The bodies for the real doll suits are made on special female torso, which we have in 4 sizes: 40 (XS), 42/44 (S), 46 (M), and 48/50 (L).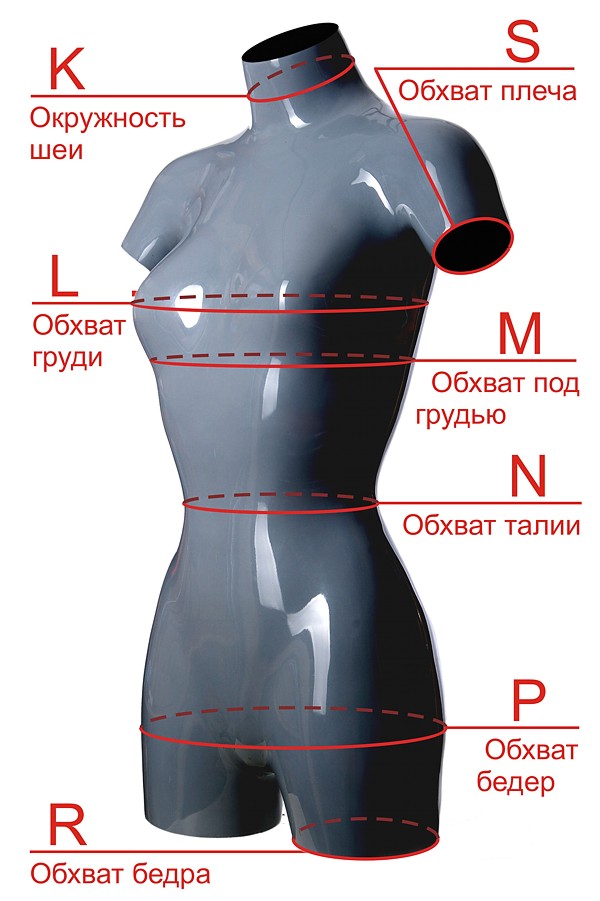 The size chart for the CL0002 bodies you can see below (+/- 1 cm):
Size Chart
Size of the CL0002 Body
40 (XS)
42/44 (S)
46 (M)
48/50 (L)
Real measurements of the CL0002 (+/- 1 cm)
K - Neck circumference
32
33
37
39
L - Chest circumference
79
82
93
98
M - Under chest circumference
70
72
78
87
N - Waist circumference
54
59
67
72
P - Hips circumference
82
87
96
100
R - Thigh circumference
41
46
50
52
S - Biceps circumference
23
25
30
30
T - distance from the crotch to the base of the neck
61
63
66
69
40 (XS) fits height up to 170 см,
42/44 (S) fits height up to 174 см,
46 (М) fits height up to 179 см,
48/50 (L) fits height up to 182 см.
If your height is bigger, please choose the "Height increasment" option and tell us your height. In this case we will cut the body in the waist area, and will glue a horizontal latex band of the necessary width (there will be 2 horizontal seams).
FAQ:
1. Is it possible to make the real doll suit all in one color - stockings and gloves of the same color as the body?
Yes, but colors will not be 100% the same. We mould different parts of the dollsuit (body, mask, gloves and stockings) of liquid latex, and we use absolutely the same flesh-colored liquid latex from the very same barrel. But the problem is that in time all these parts change their color a bit and with different speed, and their hue moves from bright pink to more yellowish, loosing its pinkness in time. However, we can't affect this process, so as a result we have milticolored details that are combined in one dollsuit. So it' s beyond our control and possibilities to make them absolutely identical. We can only recommend to make some contrast trims on the seams between the body and the gloves/stockings, so that the difference in color is not that evident.
2. Is it possible to make the real doll suit made-to-measure?
- Theoretically, yes. If you are ready to pay extra 2000-3000 EUR for the sculptors work, which means the production of the custom-made individual torso with its following special treatment and buffing. In return you will have your own personal torso, which can be used many times for making made-to-measure moulded bodies for you, and produce such suits as CL0004, CL0003 and CL0001.
Instead of CL0001 you can order the suit CA3579 It can be made of any size (L, XL, XXL), and also made-to-measure. It can be made all in one color, including Baby Pink, and with many different options... Maybe this will fit you more?
Photos of some options
| | | |
| --- | --- | --- |
| | | |
| Mask MLK001 with painted mouth | Mask MLV001 with painted mouth | Mask MLV001 with cushion ring |
| | | |
| Inflatable breasts and 50 mm sheathless cushion ring | Mask with anime eyes and mouth | Trimmed cut in the crotch |
| | | |
| Red 40 mm in diameter sheath | Back zipper from crown to sheath | Realistic vagina |
Don't forget to use latex polish!