CL1104 Latex FullSuit SpiderNet
Exclusive FullSuit with a unique pattern
Produced on the basis of cast anatomical leotard CL2001 to wich gloves YS0003 are glued, stockings ZL0000 and zippers in different versions, as well as glued or cut different things according to the options you select.

The drawing by unique technology is integrated into the main material and makes up with it a single whole, does not protrude above the surface, does not break the surface shine, is not washed away. The image is applied by hand, therefore all products are unique and the picture in each particular case may differ slightly from those presented in the photographs.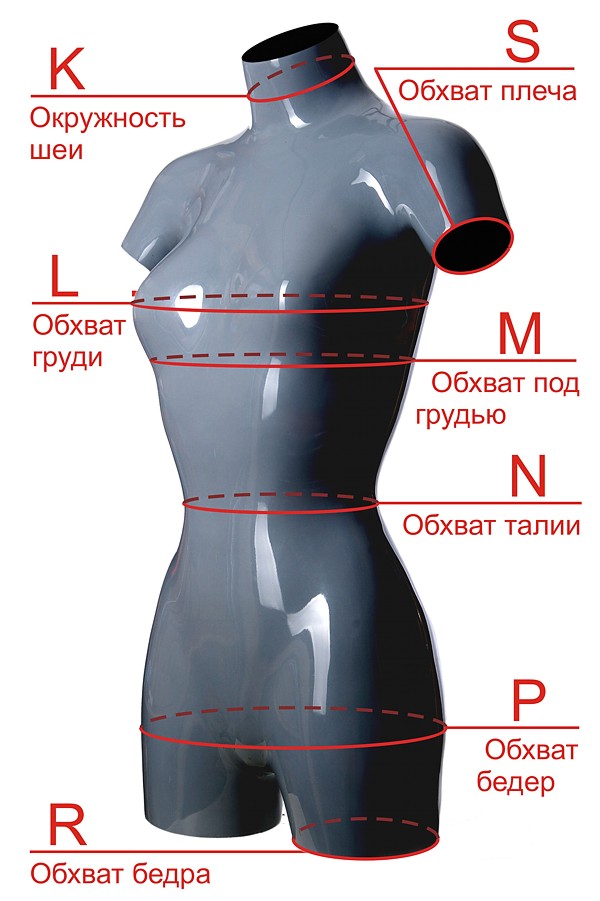 Below are the dimensions of the torso-shape on which the latex leotard is cast. After removal from the mold during drying, the product itself sits on some value and the dimensions of the mold can be considered the dimensions of the product only after some correction.


REAL PRODUCT DIMENSIONS (+/- 1 CM)
Size:
40 (XS)
42/44 (S)
46 (M)
48/50 (L)
K - Neck circumference
32
33
37
39
L - Chest circumference
79
82
93
98
M - Under the breast circumference
70
72
78
87
N - Waist circumference
54
59
67
72
P - Thigh Circumference
82
87
96
100
R - Hip circumference
41
46
50
52
S - Shoulder Girth
23
25
30
30
T - Distance from the center of the crotch to the base of the neck
61
63
66
69
Gloves and stockings
are produced by dipping the mold into liquid latex.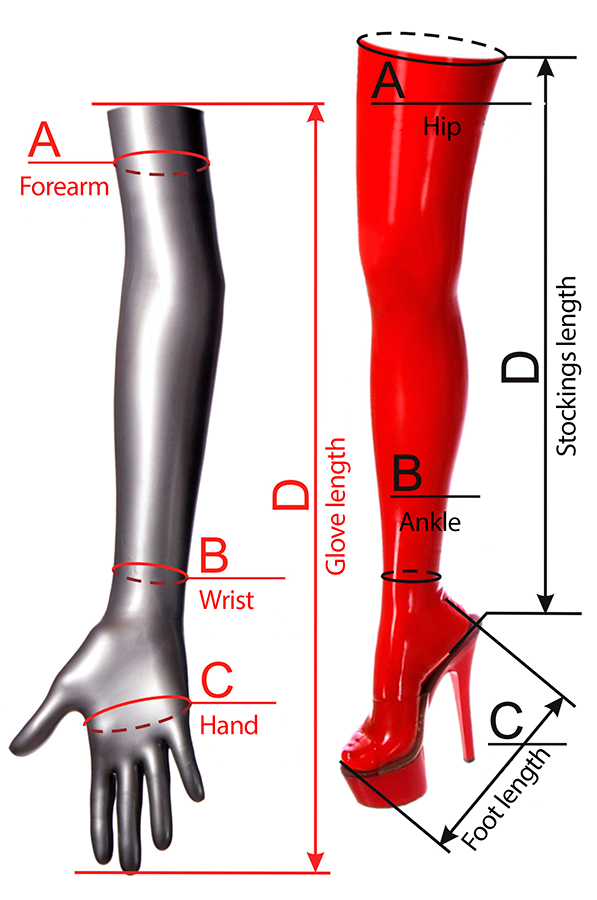 Below are the sizes of these products (error +/- 1cm)
REAL PRODUCT DIMENSIONS (+/- 1 CM)
Gloves YS0003
Small
Medium
Large
X-Large
A - Girth of the shoulder
18
23
26
28
B - Wrist Girth
13.5
15
18
18
C - Girth of the palm
15.5
17
21
21
D - Minimum length of glove
54
57
57
57
REAL PRODUCT DIMENSIONS (+/- 1 CM)
Stockings ZS0000
X-Small
Small
Medium
Large
X-Large
A - Hip circumference
35
38
42
44
47
B - Ankle girth
17
19
22
23
23
C - Length of foot
20
22
24
26
26
D - Minimum stocking length
71
71
73
76
76
Zipper
can be either front or back: a full 3-way through the crotch or a short 1-way to the waist in combination with various crotch design options.
You can make body without any zipper - with a throat entrance. Believe us, with certain experience, putting on a fullsuit without a lightning is not so difficult, especially if you choose the version of the execution of the top of the product without sleeves and a collar-stand.
The main photo shows fullsuit colors:
Color combination of the product:
Black + Gold
The components of this costume are made by different technologies, and their colors can differ quite a lot from each other in shade and saturation. Therefore, only those colors are offered at choice, where the coincidence of shades and saturation is guaranteed.
Latex color chart
Textured Latex Patterns
Don't forget to use latex polish!
Please note:
SPECIAL PROPOSAL. UP TO 50% DISCOUNTS