AS9406 Gas Mask with attached hood
Russian gas mask with round glasses, with a glued neck-hood.

In order for the mask to sit comfortably, not sting or hang on the head, it is important to determine the correct size.
To do this, you need to measure the girth of the head in two places: size A and size B, see picture.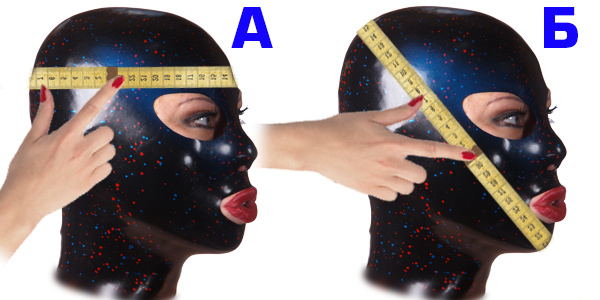 Then determine your size from the table:

| | |
| --- | --- |
| Sum of measurements A + B (cm) | Mask size |
| 118.5-121 | 1 |
| 121.5-126 | 2 |
| 126.5-131 and more | 3 |
The color of the neck-hood and the color of the connecting strip can be selected separately.
The main photo shows a mask with a red hooded neck (Red RuBeaR) and a black connecting strip.
Additional photos show a mask with a flesh-colored neck-hood (Flesh RuBeaR) and a red connecting strip.
For the convenience of putting on a gas mask, you can stick a zipper on the back or make a lacing, while keeping in mind that the gas mask is likely to lose its tightness.
The Neck of the Hangman's Collar is only possible without zipper or lacing.
Please note that this mask cannot be used as a personal protective equipment.
Don't forget to buy a latex polish
Please note:
SPECIAL OFFER - DISCOUNTS up to 50%